UECE Conference on
Economic and Financial Adjustments in Europe
ISEG/UTL – School of Economics and Management/Technical University of Lisbon
Lisbon, 29 June 2012

UECE (Research Unit on Complexity and Economics) and ISEG are organising a one-day Conference on Economic and Financial Adjustments in Europe. In the aftermath of the 2008-2009 economic and financial crisis several EU countries started to implement processes of economic and financial adjustment. In such demanding environment, the smooth operation of the euro area also faces new challenges. In this context we invite submissions addressing notably the following issues: - economic and financial adjustment processes; - economic imbalances; - country issues; - challenges to monetary policy; - challenges to fiscal policies.
Panel discussion
Michael Arghyrou (Cardiff Business School, Cardiff University)
João Ferreira do Amaral (UECE; ISEG/UTL)
John Driffill (Birkbeck College, University of London; CEPR)
Ludger Schuknecht (Federal Ministry of Finance, Germany)
Jürgen von Hagen (University of Bonn; Indiana University; CEPR)
Important dates
30 April 2012 Deadline for submission of papers.
15 May 2012 Acceptance decisions.
30 May 2012 Submission of final version of papers.
António Afonso (UECE; ISEG/UTL; ECB)
Philip Arestis (Cambridge University)
Roel Beetsma (University of Amsterdam)
Mário Centeno (UECE; ISEG/UTL; Banco de Portugal)
Gilles Dufrénot (Banque de France; CEPII; Aix-Marseille School of Economics)
Jakob de Haan (De Nederlandsche Bank; University of Groningen)
Hubert Kempf (CES - Sorbonne Economic Centre; École Normale Supérieure de Cachan)
Peter McAdam (ECB; University of Surrey)
Miguel St. Aubyn (UECE; ISEG/UTL)
Volker Wieland (Goethe University of Frankfurt)
The registration fee of 90 Euros includes, besides the usual conference provisions, lunch and the conference dinner on June 29.
Payment can be made using PayPal following the link below. Please do not forget to quote the reference "Economic and Financial Adjustments in Europe"and the name of the participant.
Download it Here
Papers Here
Photos Here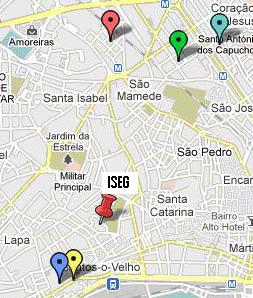 The UECE conference on Economic and Financial Adjustments in Europe will take place in ISEG/UTL - School of Economics and Management/Technical University of Lisbon. The school is situated in the center of Lisbon and the main address is Rua do Quelhas, 6.
How to get from the Airport to the City
Lisbon's main airport is Lisbon Portela Airport in Lisbon, 10 kilometers from the conference venue at ISEG/Technical University of Lisbon.
Taxis are the easiest way to get into town and are available outside the Lisbon Portela Airport. The journey to city center takes about 20 minutes. All of the taxis are beige and have digital meters and must run them. The cost of getting from the airport to the (city centre) is about 15 euros daytime. Most taxis do not accept credit cards. It is not necessary to tip taxi drivers.
You can also take the bus to Cais do Sodré and then from there a train to Santos where is ISEG/Technical University of Lisbon is located. The train from Cais do Sodré takes 3 min to arrive to Santos.
Tips on Travel
Visa: Non EU citizens and citizens from countries without VISA waive must require a VISA to come to Lisbon.
The Money: The currency used in Portugal is Euro. Portugal has an extensive network of ATM machines and most restaurants, hotels, shops and museums accept credit cards.
Electricity: The electrical current in Portugal is 220 volts, 50 cycles alternating current (AC); wall outlets take Continental-type plugs round prongs.
Organizing Committee:
António Afonso (UECE; ISEG/UTL; ECB)
Francisco Nunes (UECE; ISEG/UTL)
Joana Pais (UECE; ISEG/UTL)
Conference Administrator:
Sandra Lopes
uece@iseg.ulisboa.pt
Address:
UECE, ISEG/UTL
Rua Miguel Lupi, 20, 1249-078 Lisboa, Portugal
phone: (+351) 213 925 912
fax: (+351) 213 971 196
UECE stands for Research Unit on Complexity and Economics. It is the main economics research centre of ISEG. UECE produces research, both theoretical and applied, mainly in economics, but also in the sciences of complexity and in inter-disciplinary areas.
The main UECE goals are:
Promoting research on dynamical systems and on complexity, with an emphasis on economic applications, and also on other economic fields, such as game theory and macroeconomics;
Developing new statistical methods applied to economics;
Studying the consequences of dynamic, non-linear and complex systems in what concerns economic analysis and forecasting;
Organizing seminars, conferences and other events to disseminate scientific results;
Participating in international research networks and promoting participation of researchers in international congresses and conferences;
Promoting and publishing papers, working papers and other documents to stimulate research in these recent economic theory areas.
Founded in 1911, ISEG is a research-oriented institution, whose mission is to instruct capable business and economics students and to train the most skilled managers and mathematicians, providing each with cutting edge knowledge in the corresponding areas of interest. ISEG is one of the top prestigious and experienced business and economics schools based in Portugal, one of the three top-ranked providers in these fields of education at undergraduate, graduate and executive training levels.
ISEG distinguishes itself from its competition through a clear focus on top quality research and teaching, and through an intense relationship with the most important public and private Portuguese Institutions and Corporations as well as with the development of long-term relationships between ISEG and its alumni. Its facilities were totally renovated recently providing a top-quality and stimulating academic environment to the personal and professional development of future managers and economists.
ISEG is located in the city centre just next to the portuguese Parliament and facing the Tejo river. It is also in walking distance of The National Museum of Ancient Art, the bearer of the most important collection of arts in Portugal.
Lisbon is the capital and largest city of Portugal. It is also the seat of the district of Lisbon and capital of the Lisbon region. Its municipality has a population of 564,477 in 84.8 km2, while the Lisbon Metropolitan Area in total has around 2.8 million inhabitants. Due to its economic output, standard of living, and market size, the Grande Lisboa (Greater Lisbon) subregion is considered the second most important financial and economic center of the Iberian Peninsula. The Lisbon region is the wealthiest region in Portugal and it is well above the European Union's GDP per capita average – it produces 45% of the Portuguese GDP. It is also the political center of the country, as seat of government and residence of the Head of State.
Lisbon was under Roman rule from 205 BC, when it was already a 1000 year old town. Julius Caesar made it a municipium called Felicitas Julia, adding to the name Olissipo. Ruled by a series of Germanic tribes from the 5th century, it was captured by Moors in the 8th century. In 1147, the Crusaders under Afonso Henriques reconquered the city for the Christians and since then it has been a major political, economic and cultural center of Portugal. Unlike most capital cities, Lisbon's status as the capital of Portugal has never been granted or confirmed officially – by statute or in written form. Its position as the capital has formed through constitutional convention, making its position as de facto capital a part of the Constitution of Portugal.
Lisbon hosts two agencies of the European Union, namely, the European Monitoring Centre for Drugs and Drug Addiction (EMCDDA) and the European Maritime Safety Agency (EMSA). The Community of Portuguese Language Countries (CPLP), is also headquartered in Lisbon.
The municipal holiday is June 13, St. Anthony's Day.
UECE, ISEG/UTL, Rua Miguel Lupi, 20 - 1249-078 Lisboa, Portugal
phone: (+351) 213 925 912 fax: (+351) 213 971 196 email: uece@iseg.ulisboa.pt
©2006-2012 UECE. Todos os direitos reservados. All rights reserved.